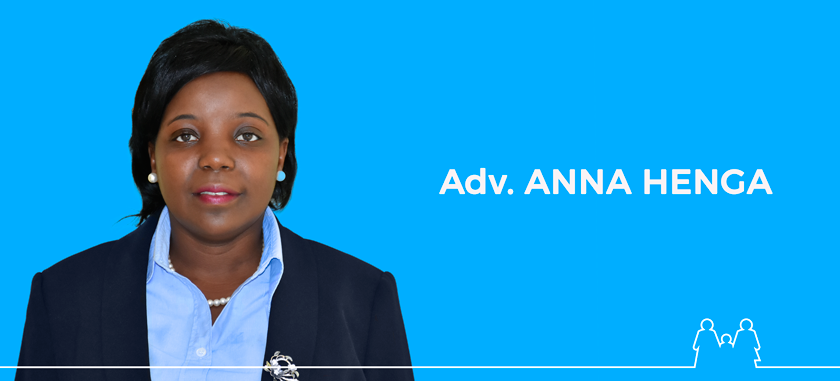 Introducing the LHRC new Executive Director, Ms. Anna Aloys Henga
Legal and Human Rights Centre is delighted to announce the appointment of Ms. Anna Henga as the new Executive Director replacing the long serving Executive Director Dr. Helen Kijo-Bisimba. Her first charge as the Executive Director will commence on July 1, 2018.
The appointment of Anna Henga comes as a result of a succession plan that was internally carried out by the LHRC's Board of Directors from the beginning of 2017.
Anna Henga's Background
Anna Henga is the current LHRC Director of Advocacy and Reforms and a member of the management team. She is vested with responsibility to lead the Centre's core cause which is to advocate for legal and policy reforms as well as change of practices to realize the vision of attaining a Just and Equitable Society.
Anna has grown carrier wise in the organization excelling from an intern to becoming the Executive Director. Prior to her promotion, Anna has been regularly serving as Acting Executive Director of the Centre when the current Director was not in office for some reasons.
Anna joined LHRC back in 2006 as an intern and later legal officer volunteer at the LHRC's legal aid clinic in Arusha, afterwards she has been successfully serving in various roles counting Programme Coordinator - Constitutional Reforms, Coordinator of the Southern Africa Legal Assistance Network (SALAN) as well as Program's Officer - Gender, Children and Anti FGM Coordinator.
Anna holds a Master's Degree in Development Policy and Practice for Civil Society, (Mzumbe University), Post Graduate Diploma in Business Administration - Institute of Finance Management (IFM), Bachelor of Laws (University of Dar-es-Salaam) and Diploma in Gender- from Sweden Institute of Public Administration.
Her hardworking and dedication in defending human rights has been impressive, we at the LHRC are glad to have such a passionate human rights defender as our new Executive Director and we call on the general public, national and international friends of human rights to accord her necessary cooperation.
With Anna as the leader of the LHRC'S team we are confident that our cause to attain a Just and Equitable Society can be realized.
Anna is reachable through these contacts:
Email: ahenga@humanrights.or.tz
Twitter: @HengaAnna