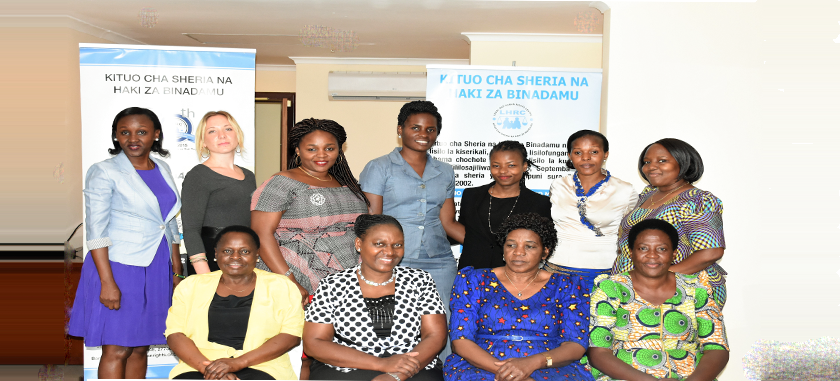 Anti-FGM coalition vows to end the practice in Tanzania
On October 31, 2017, the Legal and Human Rights Centre organized a one day session bringing together members of the Tanzania Coalition against FGM in Tanzania
Members of the coalition who attended the session included TAMWA, TAWLA, NAFGEM, CCT, WOWAP, AFNET and CDF. The key objective of the meeting was to reflect and analyze the efforts made so far in the fight against FGM as well as assessing the value that has been added through various campaigns in a bid to eradicate the practice in the country. Furthermore, coalition members swore to undertake strategic measures to put the practice to an end as a way of realizing the commitment towards the SDG's 2030 particularly on ending all forms of violence against women and girls.
All the attendants admitted to be engaging on FGM with various interventions including sensitization and awareness creation to the community; media advocacy as well as ensuring that there is enforcement of the law against FGM and accountability of duty bearers such as the police gender desk, social welfare officers, the judiciary and other government authorities.
From these interventions members of the coalition bagged some achievements including increased awareness and reporting of incidences related to FGM, empowered men and women who have become ambassadors to end the practice, enforcement of the law against FGM , change of perception, collaboration between stakeholders and duty bearers which has resulted to decline in prevalence of FGM in Tanzania from 18% TDHS 1996 to 10% TDHS 2016.
On the other side, members pinpointed challenges that complicate the war against FGM in Tanzania. Reluctance of some of traditional leaders to let go off their customs and traditions is among the challenges mentioned by the coalitions; instead of abandoning the practice, some communities are adopting new techniques to keep practicing their traditions. Perpetrators are now circumcising new born girl children from0-5 years old before school enrolment. Another encounter amid working towards eradication of FGM is difficulties in law enforcement where accusers tend to walk free before the law as a result of corruption and sometimes defending relatives.
Moreover, economic reasons like poverty pull back the war because most of the traditional circumcisers earn their living through FGM. On the other hand coalition members noted that there is lack of political willingness among decision makers, as a result there is limited resources allocated to curb the situation.
To conclude the session, members of the coalition agreed to revisit their strategies and put down plans that will see off the practice in Tanzania.